Missing Pet Search Team
Our Missing Pet Search Teams work throughout the UK. We operate 7 days a week to offer vital assistance for you and your missing pet.
You're in safe hands
Our specialist search coordinators possess unrivalled expertise. You can be confident that we will assess the disappearance of your missing pet sensitively and practically so we are able to advise you on how best to conduct your search.
The Animal Search UK team has accumulated more experience than any other missing pet organisation in the United Kingdom.
The Missing Pet Search Team conducts hundreds of searches every year. Out of the all searches conducted in 2015 an amazing 80% were resolved*.
Search Specialists
Our Missing Pet Search Teams have been working with owners to help locate their missing pets for many years. Each team member is selected and trained by former police officer Tom Watkins, who has over 18 years of investigation experience. Many of our Missing Pet Search Team members are also former police officers or have served in the Armed Forces meaning they have a wealth of in depth experience in search and surveillance.
Every team member at Animal Search UK has one thing in common, we all have a pet who is part of our own family. We understand how much your pets mean to you.
Our Searches
The majority of searches we conduct are to find cats and dogs, although we have taken part in searches for a variety of different missing pets in the past, from exotic birds to ferrets. We are fully equipped for investigations to take place in both urban communities as well as rural settings too.
The search team works in a number of ways. We conduct door to door enquiries, physical searches of gardens, outbuildings and land. Our specialist publicity and state of the art equipment means no stone is left unturned throughout your search. Please read on to see how our Missing Pet Search Team can support the search for your missing pet.
Expert SupportWhen You Need It Most
Work and family commitments often mean that owners don't have as much time or even the emotional energy they'd like to devote scouring the area looking for their missing pet.
When it's a new and distressing situation you're faced with, it can seem unmanageable, even impossible. That is where we come in to take the pressure off you. You can rest assured, knowing you have done all you can and that the most experienced Missing Pet Search Team in the UK are there to support you with advice, share their expertise and of course to help reunite you with your missing pet.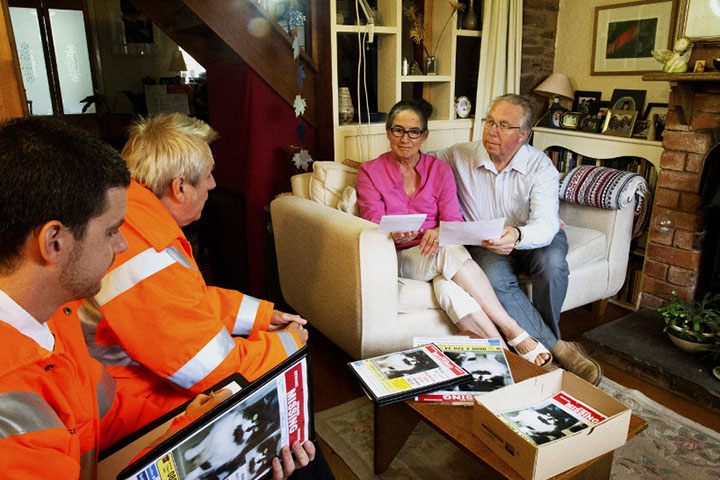 Search Vehicles
Our uniformed team will always attend in one of our fully equipped, specially marked, high visibility Missing Pet Search Team vehicles. This highly effective and unique aspect of our service plays a significant part in the search. The vehicles alone have resulted in several pets being reunited within a short time of the team arriving. Our professional appearance and equipment means that members of the public feel more confident in approaching us and allowing us access to gardens and outbuildings.
High visibility means a higher chance of finding your pet. The public notice our vehicles as they would notice a police car or an ambulance, prompting them to come and find out what we are investigating. This helps to raise the profile of your missing pet even further. On searches we display your pet's posters inside the windows and strategically move the car throughout the day so people who come to look at the car will know exactly why we are there.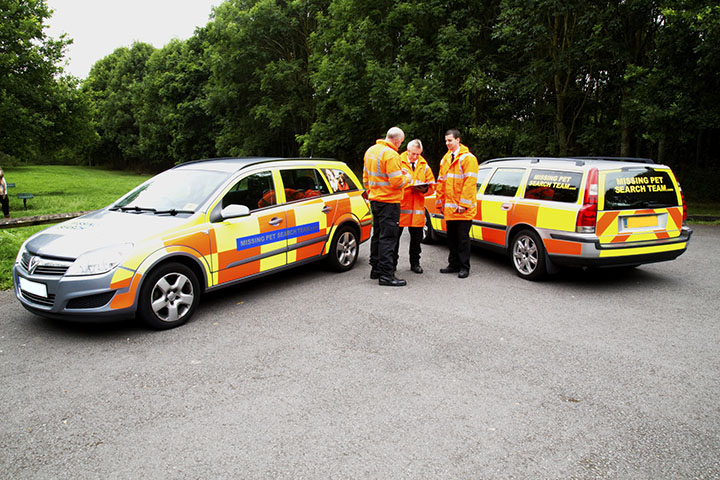 Thermal Search Equipment
We are so pleased to be the first and only Missing Pet Search Team in the UK who are able to offer the additional benefits of using our own thermal imaging equipment during your search. Here at Animal Search UK we will continue to grow the services we offer, using the latest technology where possible to help us to locate your missing pet quickly and efficiently.
Costing over £2000 each, our advanced thermal imaging cameras act rather like a pair of electronic binoculars with a special advantage - they can detect heat sources like pet's body warmth in complete darkness and patches of undergrowth. They display an image of this heat source to the viewer. The image can be stored if necessary in order for it to be reviewed further or at a later date.
All of our advanced technology is included in every search at no extra cost.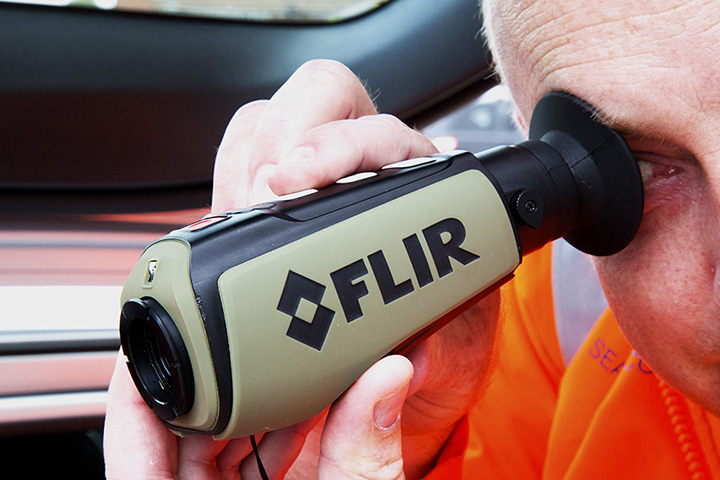 Specialist Publicity
Posters, Leaflets and Social Media
A key role of the Missing Pet Search Team is to raise awareness of your missing pet, and the Specialist Publicity Campaign that accompanies every search helps them to do just that.
There are many reasons why some members of your community may feel embarrassed or uncomfortable about calling you directly.
The opportunity for people to approach us on the day of the search or contact us over the phone as a third party, anonymously if desired, can be a key factor in achieving news.
We encourage the public to call us instead of you. Whilst maintaining your privacy, our missing pet helpline takes calls about your pet 24 hours a day, 7 days a week in our specialist UK based office. We will pass on all information to you immediately by phone, email or text as you choose.
Our Media Team, based in Hereford, co-ordinate your pet's local, national and regional online publicity via Facebook and Twitter. We have over 39,000+ followers UK wide.
What you can expect on the day of your search
The team usually arrive with you around mid-morning, although this is does vary dependant on the distance you are away from us, daylight hours and any special circumstances relevant to your search.
The team will come and visit you for a briefing session. If you aren't available on search day then this is done over the telephone. This information sharing opportunity means you can brief the team with any relevant information about your pet's habits and of course their disappearance. The Missing Pet Search Team will be able to identify any particular areas they may need to focus on.
The Missing Pet Search Team will conduct their door to door enquiries, searching gardens, outbuildings and land, using a variety of tried and tested traditional techniques combined with state of the art equipment. They will distribute your Specialist Publicity as they speak to people, encouraging people to call our 24 hour Freephone number anonymously if they would like to, and gaining support from within your community.
In the unfortunate event that your pet is not home safely by the end of your search then we will come and have a debriefing session with you. We will leave you with a detailed map of where we have been and where your specialist publicity has been placed. We will also note all of the important information that we have found out during the course of the search. This information could include potential sightings, an area that your pet frequents, and details of look-a-like cats in the area and so on.
Our support doesn't stop there, after your search concludes we will continue to take calls about your pet 24 hours a day, 7 days a week. We will continue to provide advice and guidance for as long as you'd like us to. If necessary, we can advise and assist with large scale publicity campaigns this often includes newspaper and radio appeals.
What Next?
If you are thinking about booking a search then please do call us as soon as possible to discuss it further. We offer a first come, first served booking policy which means that we are unable to reserve specific days without a booking being made. Our helpful team will be able to calculate your mileage and give you an estimate of the cost over the phone. We will produce draft designs for your pets Specialist Publicity and send them to you for consideration with your fixed Missing Pet Search Team quote, additional information packs and a copy of our Search Terms and Conditions which explains our tiered Search Refund Policy.
If your pet is insured, your policy may include help with advertising and reward costs. We work with most pet insurance companies on a daily basis, which means we may be able to provide a specialist publicity campaign for your missing pet, at no cost to you and with no excess for you to pay. Let us know who you are insured with and we will let you know how we work with them to help you.
In the vast majority of cases teams are deployed within 12-36 hours of your call. The teams normally attend on one day. You can choose a standard search (10 hour search) which means the team members will search for 5 hours each, working separately but in the same vicinity or we can offer a premium search (15 hour search) which is more time for two members (7.5 hours each) or if team availability allows we can provide 3 search team members for 5 hours each.
Our specialist team will be happy to answer any questions you have. Please visit our contact page for the details of how to get in touch.
Want to know more? See our FAQ or call one of our small team of friendly experts.
What do our owners think? Read some customer testimonials here.
* We would love to be able to find every pet that we search for, but unfortunately we can never guarantee that we will find your pet. In 2015 we performed 130 searches, 102 of which are resolved. Not all the pets we search for are reunited on the day of the search itself, many are reunited in the following 24-48 hours as a direct result of the search that has been performed. It is important to remember that not all searches have a happy outcome as some pets are sadly found deceased.