Specialist Publicity
Posters, Leaflets and Social Media
We design and print your pet's specialist posters and leaflets in house and courier them to you for delivery the very next day.*
Why Our Specialist Publicity Increases Your Pet's Chances
Day in day out we hear from owners who haven't had much response after circulating their own posters and leaflets. Quite often we find that the specialist publicity we provide reinforces the message. When your community realises that you have got a professional organisation involved they sit up and take note.
There are many reasons why some members of your community may feel embarrassed or uncomfortable about calling you directly. It may be bad or sad news they want to share or they may know who is feeding your pet but are worried about getting them into trouble. People are often hesitant to ring an owner for many reasons, it could be something as simple as they aren't 100% sure it is your missing pet that they have seen, leading to crucial sightings being missed.
We encourage the public to call us instead of you. Our missing pet helpline takes calls about your pet 24 hours a day, 7 days a week in our specialist UK based office. We will pass on all information to you immediately by phone, email or text as you choose.
The opportunity for people to contact us as a third party, anonymously if desired, can be a key factor in achieving news. Our poster and leaflet campaign service has a higher success rate than home made posters displaying your personal contact details. We know there is more chance of finding your pet, and more quickly, if you choose to use our specialist publicity opposed to making your own leaflets.
What Else Makes Our Specialist Publicity Unique?
Our specially printed posters are 100% waterproof, meaning the ink won't run in the rain.
Our posters are printed onto specialist paper which contains a plastic based polymer, making it extremely difficult to tear.
We provide you with everything you need to effectively display your campaign including a specialist fixing kit and innovative clips that protect your posters against high winds and vandalism.
Your Campaign will also include a Publicity Guidance Document to help you assess where is best to display your posters to gain maximum impact within your community.
We promise that we'll do whatever we reasonably can to deliver your pets publicity to you next day. Using our chosen courier, Interlink, we are able to ensure that the vast majority of our Publicity Campaigns are delivered securely to your chosen address next day, even on a Saturday. We will always let you know when your campaign is scheduled for delivery when you call us to proceed.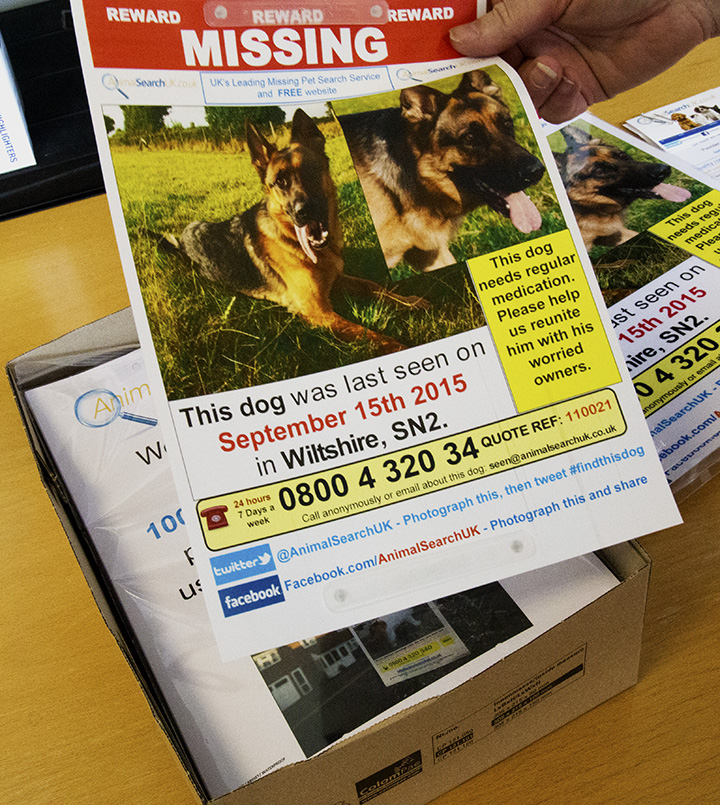 Is Your Pet Insured?
If your pet is insured, your policy may include help with advertising and reward costs. We work with most pet insurance companies on a daily basis, which means we may be able to provide a specialist publicity campaign for your missing pet, at no cost to you and with no excess for you to pay. Let us know who you are insured with and we will let you know how we work with them to help you.
Social Media
In today's world Social Media plays a crucial role in raising the profile of your missing pet. We work from every angle possible to spread the word about your missing pet in your surrounding community, regionally and nationally if appropriate.
Our Media Team, co-ordinate your pet's online publicity via Facebook, Twitter and instagram. We have over 39,000+ followers UK wide and are active in hundreds of local and regional groups online. This means we are able to ensure that your pets details are circulated as widely as possible getting maximum coverage on a variety of platforms.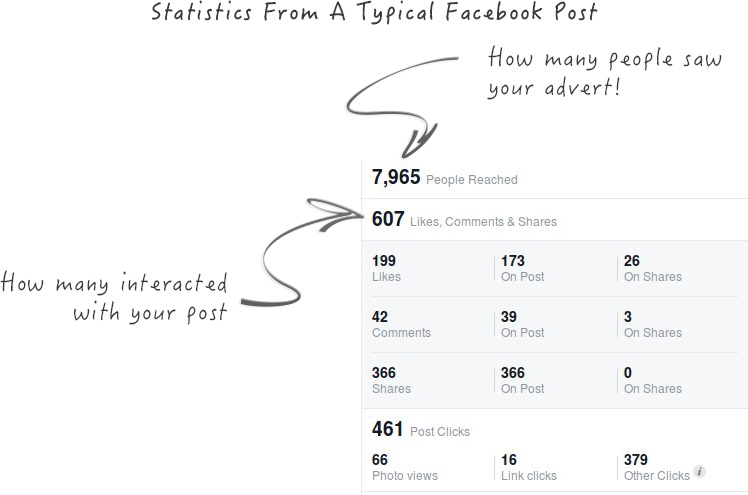 We can also create what is called a Facebook Boosted Advert for you. This means that your pet's post on our Facebook page is converted in to a Facebook advert and therefore it is targeted to deliver to Facebook users specifically in your geographical location, resulting in many more people being aware that your pet is missing locally to you. Facebook's Boosted Adverts are a great way of spreading the word whilst keeping advertising costs down, if you are covered for Advertising and Reward by your pet insurer this type of advert is commonly covered. Boosted Facebook Adverts are a standard inclusion in our Specialist Publicity campaigns, but we are now able to offer them on their own too. To find out more please click here, where you will find details of estimated post reach etc and also view a preview of your pet's Boosted Advert.
We also work frequently with newspapers and radio stations and can help you further with advice and guidance should you wish to explore using these options to benefit your search during the time your pet is missing.
Maintaining Your Privacy
It is important for you to consider the wider implications of displaying your personal telephone number on posters and leaflets. We very often get told by owners that they have tried this and sadly it has resulted in them receiving nasty hoax calls. The same can be said for displaying your number on the internet, social media sites and newspapers. At such a distressing time, if you choose to display your number make sure you are prepared in the event that you receive a call of this nature. See our Help & Advice section for further guidance on maintaining your privacy and information about staying safe when responding to potential sightings.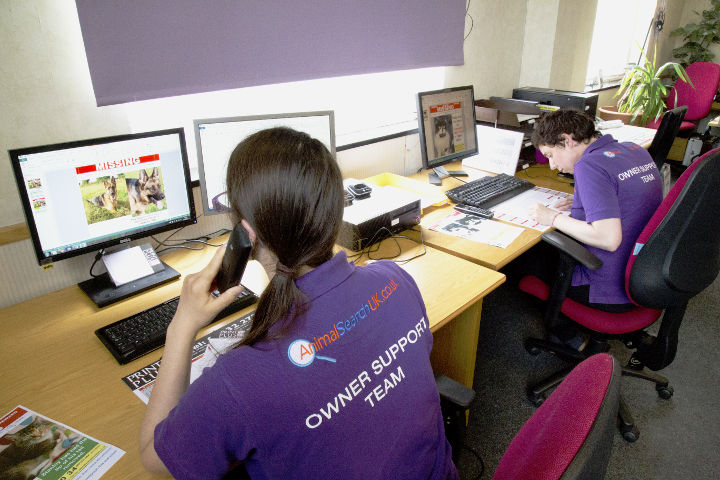 What Next?
---
---
---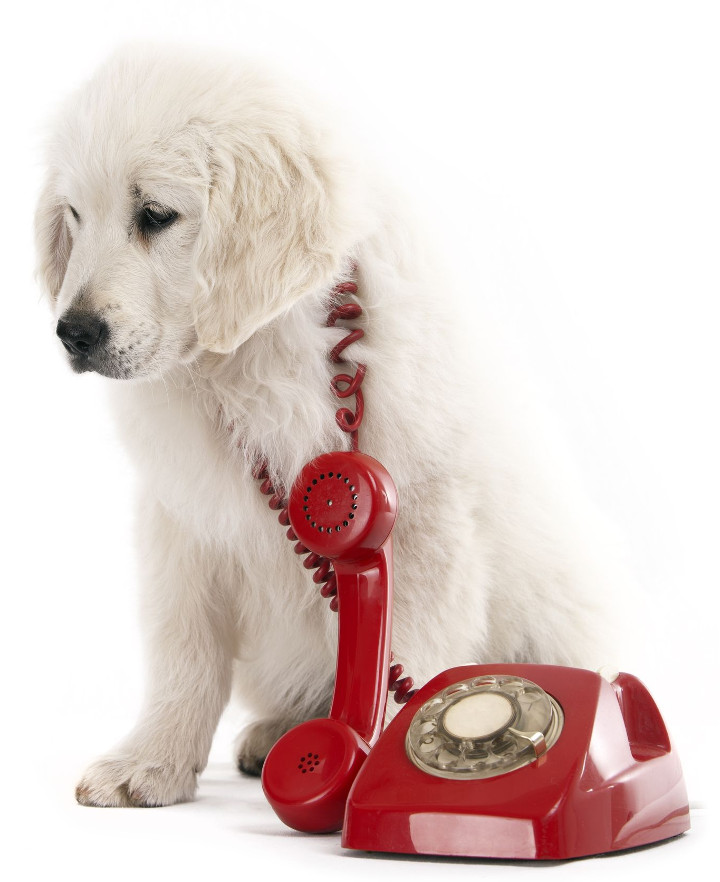 * To ensure next day delivery is possible, orders must be placed with us by 3.30pm. Quite often orders placed after this time can still be dispatched same day but unfortunately we can't guarantee it. We promise that we'll do whatever we reasonably can to deliver your pets publicity to you as quickly as possible. Orders placed Monday - Friday are usually delivered next day. Orders placed over the weekend are usually delivered on the following Tuesday, if this is the case then we will also send you digital copies of your pet's publicity so you can make use of the freephone number straight away, we also start your pet's social media campaign straight away. We will always let you know when your campaign is scheduled for delivery when you call us to proceed. Our offices are open 7 days a week, 9am - 5pm.